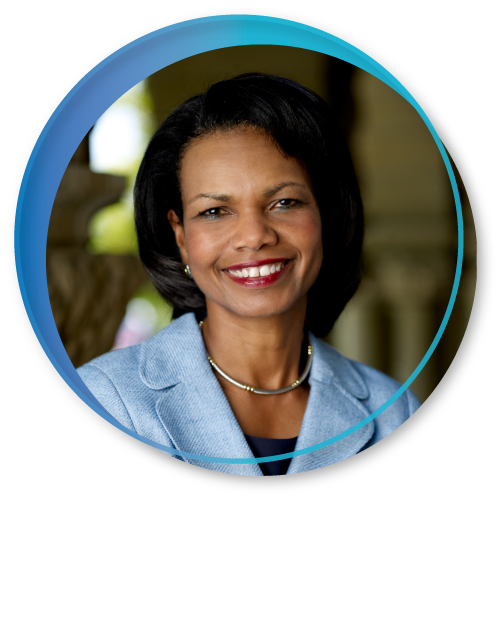 Condoleezza Rice | 66th U.S. Secretary of State
Sec. Condoleezza Rice is currently the Denning Professor in Global Business and the Economy at the Stanford Graduate School of Business; the Thomas and Barbara Stephenson Senior Fellow on Public Policy at the Hoover Institution; and a professor of Political Science at Stanford University. She is also a founding partner of RiceHadleyGates, LLC.
From January 2005 to 2009, Rice served as the 66th Secretary of State of the United States, the second woman and first African American woman to hold the post. Sec. Rice also served as President George W. Bush's Assistant to the President for National Security Affairs (National Security Advisor) from January 2001 to 2005, the first woman to hold the position.
She has authored and coauthored numerous books, including three bestsellers, Democracy: Stories from the Long Road to Freedom (2017); No Higher Honor: A Memoir of My Years in Washington (2011); and Extraordinary, Ordinary People: A Memoir of Family (2010). She also wrote Germany Unified and Europe Transformed: A Study in Statecraft (1995) with Philip Zelikow; The Gorbachev Era (1986) with Alexander Dallin; and Uncertain Allegiance: The Soviet Union and the Czechoslovak Army (1984).
Born in Birmingham, Alabama, Rice earned her bachelor's degree in political science, cum laude and Phi Beta Kappa, from the University of Denver; her master's from the University of Notre Dame; and her Ph.D. from the Graduate School of International Studies at the University of Denver. Sec. Rice is a Fellow of the American Academy of Arts and Sciences and has been awarded fifteen honorary doctorates. She currently resides in Stanford, California.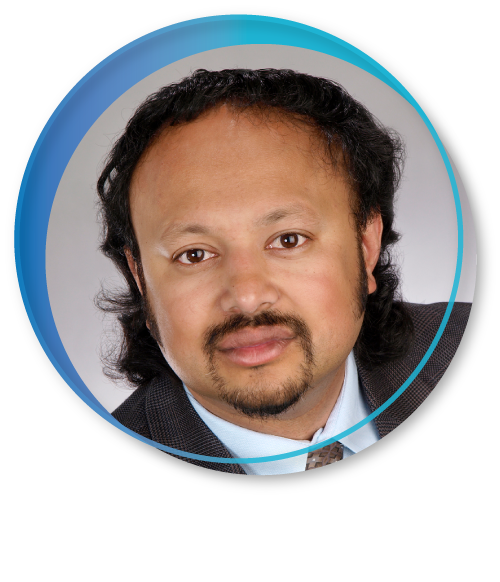 Anirban Basu | Chairman & Chief Executive Officer | Sage Policy Group, Inc.
Anirban is Chairman & CEO of Sage Policy Group, Inc., an economic and policy consulting firm headquartered in Baltimore, Maryland with offices in Pennsylvania and Cambodia. The firm provides strategic analytical services to energy suppliers, law firms, medical systems, government agencies, and real estate developers among others.
In 2014, Maryland Governor Larry Hogan appointed him Chair of the Maryland Economic Development Commission. He also serves as chairman of the Baltimore County Economic Advisory Committee. He is also the Chief Economist to Associated Builders and Contractors and Chief Economic Advisor to the Construction Financial Management Association. He serves similar functions for Visit Baltimore, the Maryland Association of Realtors, and Marcum, LLC.
Anirban lectures at Johns Hopkins University in Global Strategy and has also taught international economics, urban economics, micro- and macroeconomics at Hopkins. His radio show can be heard weekdays on 88.1FM, WYPR, Baltimore.
In both 2007 and 2016, the Daily Record newspaper selected Anirban as one of Maryland's 50 most influential people. The Baltimore Business Journal named him one of the region's 20 most powerful business leaders in 2010.
Anirban has been on many boards over time, including First Mariner Bank, the Baltimore City Public School System, Port Discovery, the Baltimore School for the Arts, and Union Memorial Hospital. He is currently on the boards of St. Mary's College, the University System of Maryland Foundation, the Center for Emerging Media, the Lyric Opera House and the Archdiocese of Baltimore School System.
Anirban earned his B.S. in Foreign Service at Georgetown University in 1990. He earned his Master's in Public Policy from Harvard University's John F. Kennedy School of Government, and his Master's in Economics from the University of Maryland, College Park. His Juris Doctor was earned at the University Of Maryland School of Law.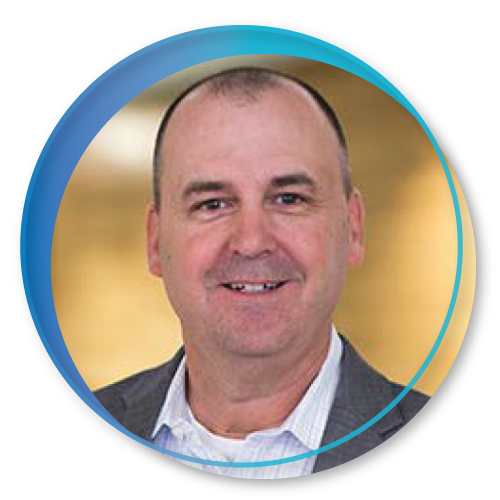 Den Bishop | President | Holmes Murphy | Health Care Issues Expert & Author
Den Bishop is President of Holmes Murphy and a member of the company's Executive Committee leading the Employee Benefits practice. He's also the co-founder of ACAP Health, an innovation and consulting subsidiary focused on clinical solutions.
Den is a recognized industry leader, a member of the Council of Employee Benefits Experts, serves on the Board of C2 Solutions, and is a member of the Dallas Regional Chamber. He's also the author of The Book on Healthcare Reform and is a recognized speaker on the subject of economic implications of the Affordable Care Act.
A graduate of Southern Methodist University, Den earned his degree in Business Administration while also earning All American and National Senior Player of the Year honors in tennis. In his free time, Den enjoys spending time with his family, riding his bike, and trying to fix America's healthcare system.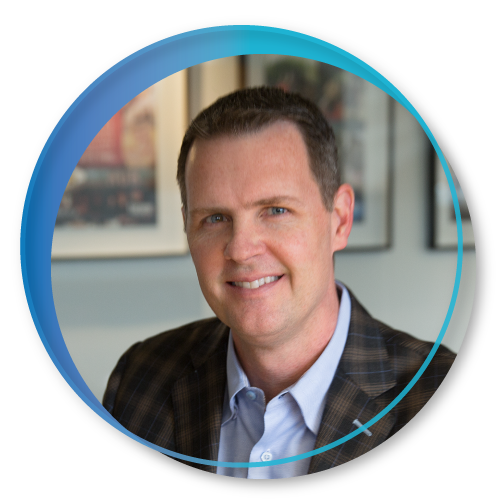 Chris Davidson | EVP/Insights & Strategy | MMGY Global
Chris Davidson oversees MMGY Global's travel insights division. He is responsible for the agency's portfolio of syndicated and custom research products, including its Portrait of American Travelers® series and its DK Shifflet suite of travel performance products. He also directs the organization's substantial investment in travel intelligence and how it fuels marketing strategies that drive results.
Chris has 25 years of experience in market research, strategic planning, brand strategy and integrated marketing communications. Prior to joining MMGY, he was a senior executive with Caesar's Entertainment at both the corporate and property management levels. In Las Vegas, Chris managed Harrah's industry-leading Total Rewards® national loyalty card program. And, as director of marketing for Harrah's Casino and Hotel in St. Louis, Chris oversaw all marketing efforts for the property, one of the largest in the Caesar's portfolio at the time, while leading its advertising, public relations, research, promotions and database marketing groups.
During his tenure at MMGY, Chris has had the pleasure of working with industry leaders in travel and tourism, including Tourism Vancouver, Choice Hotels, Omni Hotels & Resorts, Colonial Williamsburg Foundation, Monte Carlo Resort & Casino, Niagara Falls USA, and SeaWorld Parks. And, he is honored to speak at numerous industry conferences and events each year.
Chris is a graduate of Princeton University, from which he received a Bachelor's Degree in history. He also has an M.B.A. from Vanderbilt University with an emphasis in service marketing.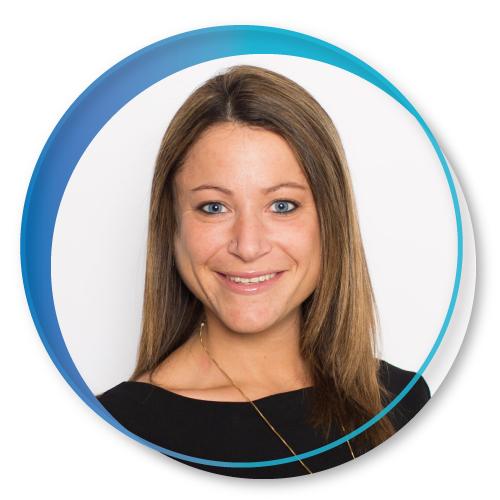 Genna Gold | Senior Manager of Business Outreach | Yelp
Genna Gold is Yelp's Senior Manager of Business Outreach based in New York City. She speaks at conferences for business owners and marketers across North America to educate them on best practices for navigating the world of online reviews. She hosts and makes guest appearances on webinars and regularly contributes content to trade publications and Yelp's "Blog for Business Owners." Genna acts as a liaison between the small business community, the media and the different divisions within Yelp.
Prior to joining Yelp in 2014, Genna worked for TripAdvisor with business owners across the world to help them get the most out of their online presence. She was born in Pittsburgh and has lived in Illinois, Connecticut, Ohio, Vancouver, Spain, Boston and now New York City. She grew up in the hospitality industry and loves meeting and helping small business owners everywhere.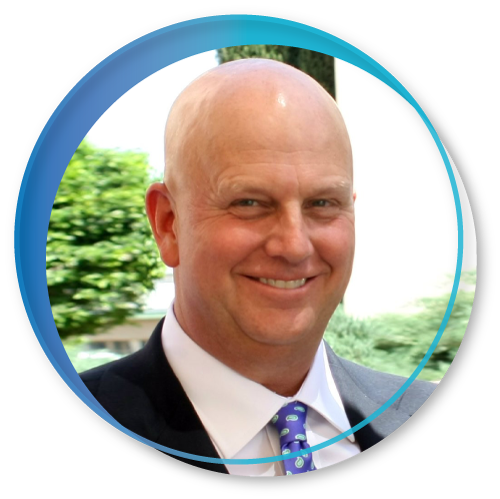 Mike Loustalot | Co-Founder | The ORCA Report
Mike Loustalot co-founded The ORCA Report in 2015 and has spent a lifetime connected to the game and business of golf. The ORCA Report is the first, and only independent, confidential, validated round and revenue benchmarking report in the golf industry.
In 1993 Mike joined PAR Golf Systems in a sales role. While at PAR, Loustalot was instrumental in working with "early adopter" golf course owners and managers transitioning to electronic tee sheets from pencil and paper. PAR merged with Aptech Computer, of Pittsburgh PA and began selling regional golf reservation systems. Loustalot successfully sold, installed and launched regional reservation networks in Phoenix/Scottsdale, Palm Springs, Las Vegas, San Antonio, and San Diego. From 1993 to 2002 Loustalot was employed at PAR, Golf Digest Information Systems, and Spectrum Golf. In 2003, Mike teamed up with the founders of Cypress Golf Solutions, and led the B2B sales & marketing strategy and drove course acquisition creating the largest online tee time booking site. Cypress Golf Solutions was acquired by Comcast and became GolfNow.com. Loustalot spent five years as Vice President of Strategic Partnerships at Golf Channel.
Loustalot is the eldest son of a 3rd generation golfing family from northern California. His father Gary, uncle Victor, and grandfather Edward, and both brothers, were all members of the PGA of America. Mike is married to his wife, Elizabeth for 26 years, they reside in Scottsdale, Arizona and have two children, Reed (24), and Colleen (22). Mike is a life member of The Scottsdale Charros, a civic philanthropy group dedicated to raising monies for youth sports and education programs in his community. Mike is a member of the Papago Men's Golf Association and has a USGA index of 0.9. Mike received his B.S. in Business Administration from Arizona State University in 1985.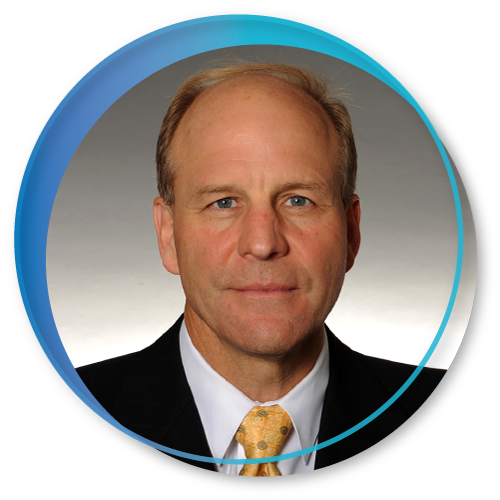 Van Tengberg | Partner | Foley & Lardner LLP
Van A. Tengberg is a partner and business lawyer with Foley & Lardner LLP, focusing on real estate acquisition and development, with a primary focus on shopping centers, office complexes, industrial business parks, hotels, golf courses and resort facilities. He is chair of the firm's West Coast Real Estate Practice, and is a member of the Real Estate and Finance & Financial Institutions Practices and the Hospitality & Leisure and Sports Industry Teams. He provides comprehensive legal services in connection with the acquisition, planning, financing, construction and development of all types of commercial projects, including hotels, resorts, and golf courses.
Van is highly skilled in all phases of golf course and resort acquisition and development and oversees the negotiation and preparation of the definitive purchase and sale agreement reflect the inter-relationships of the golf course and the surrounding community or resort. He also has extensive experience in forming and structuring both equity and non-equity private golf clubs, and has experience in all areas relating to club operations. Van received his J.D. from McGeorge School of Law (1982) and an LL.M. in taxation from the University of San Diego (cum laude, 1987). He earned his B.A. from the University of California in Davis (1979). Van is admitted to practice law in California and the District of Columbia.